Tom Dunmore provides a personal take from inside of the launch of Indy Pro Soccer this week
While I descended the normal way on an escalator in Indianapolis' Marriott hotel on Wednesday earlier this week, Peter Wilt ran down the other side, defeating the moving stairs that were defiantly trying to take him upwards. As we reached the bottom via our alternate routes, we found a large crowd that had massed for the announcement of Indy Pro Soccer's berth as the twelfth North American Soccer League (NASL) team for the 2014 season. When we entered the packed Marriott ballroom, enthusiasm to match Peter's was everywhere.
American soccer is in the midst of an upswing it has never before seen and in terms of the sheer vertical leap the sport has taken in the past five years at all levels of the game, may never be equaled for the speed of its growth. This was apparent in Indianapolis on a perfect day to launch a new professional soccer team, with hundreds of the sport's coaches, players, executives and fans from around the country assembled for the National Soccer Coaches Association of America (NSCAA) annual gathering, which this year included the Major League Soccer (MLS) draft and the NASL Annual General Meeting.
I had headed to Indianapolis for both events. As a long-time Chicago Fire fan, the MLS draft is always a fun event to be part of, a chance to see future prospects and perhaps rile up the opposition a bit. I have also been helping Peter Wilt, a former Chicago Fire President, with the launch of Indy Pro Soccer, working on digital media elements. So I could hardly not have driven the three hours from my home in Chicago to Indy on Wednesday. Not being particularly familiar with Indianapolis, I wasn't sure what I'd find. Could Indy wholeheartedly embrace a pro soccer team?
When I arrived early in the afternoon, I found the Indy Pro Soccer office in downtown Indy on the tenth floor of a venerable building not far from Monument Circle. There I found Peter, the team's first president, and met the team's owner, Keystone CEO Ersal Ozdemir. The vibe was serious but energized: finishing touches were being placed on the press conference speeches, the website to be launched during the event was being triple checked for typos, calls were being made to Indy movers and shakers, and by the time I'd set up my laptop to help out, it was time to go. A soccer team needed to be launched: not something you do every day.
Many, though, have tried in the past in Indy. Circle city history, we knew, has been littered with the bones of soccer clubs who have tried to make it. After some debate, we decided to document that history briefly here on the Indy Pro Soccer website. It was agreed that those pioneers of soccer in Indiana deserve recognition for their efforts to keep the flame of soccer alive when times were not as good for soccer across the country, when there was no Fox Soccer Channel, when the World Cup was a faraway competition about which most Americans knew nothing even when its national team upset England in 1950, when even Pele - Pele! - wasn't enough to secure a future for the first outdoor North American Soccer League, which folded in 1984.
The press conference overflowed with support for the new team at its announcement, and indicated to me that Indy Pro Soccer need not fear that fate. It showed that Indy Pro Soccer has the support of the city and state governments, the business community, the media and press who covered the event extensively. It demonstrated that half of the equation of the backing the team will need to survive and thrive is there, thanks to the groundwork laid by Ersal and Peter in the community. It's not sexy - meeting after meeting after meeting, building relationships, tirelessly advocating soccer - but it has to be done, and the early signs are it's working.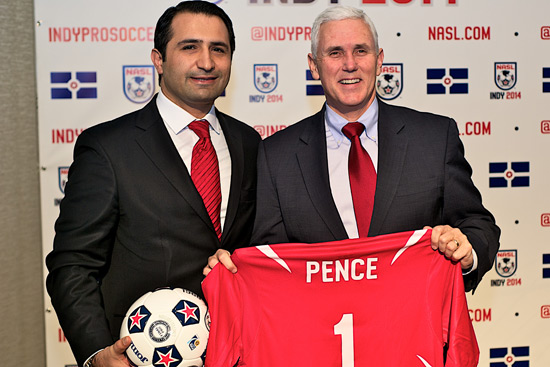 Ersal Ozdemir and Indiana Governor Mike Pence
The other half of the equation to make Indy Pro Soccer work was evident at the press conference too, represented by members of the Brickyard Battalion on the stage behind the podium: the team's supporters. These fans are, literally, the lifeblood of the team. Management, players, coaches come and go. A fanbase does not, even if individual fans do. They shape the team's identity, how it is known in its city, across the country, across the world.
Indy Pro Soccer is lucky: like Philadelphia and Chicago among others before it, Indy had fans before it had a team. The unpaid volunteers who have put hundreds of hours into building the Brickyard Battalion and its affiliates over the past few years filled the Chatham Tap after the press conference concluded, and their raw passion and excitement there showed me that this time, an Indy professional soccer team has more than a fighting chance. One fan was celebrating his twenty-first birthday, and was practically bouncing off the walls. He told us he was a Newcastle United fan; an American who had grown up watching a team from northern England on television, now with a local team to pour some of his passion for the sport into. Not everyone who goes to Indy Pro Soccer games will be 21; but the vibrant energy of those 21-year-olds will create an atmosphere the whole stadium will get behind, providing the drums and flags and noise and chants that gives soccer its unique, organic cultural appeal in North American pro sports.
These men and women of the Battalion, most in their 20s or 30s, are representative of the demographic that is the future of soccer in America today. They are not jaded by past failures. They grew up playing soccer, born into an America that had hosted a World Cup before record crowds and before they were out of short pants, that has a steady top tier professional league with Major League Soccer now entering its 18th season. They are young, they have hope and energy and they see the sport growing by the day. MLS has its ups and downs, and its relationship with supporter culture can be awkward (corporate culture, meet organic DIY), but it is established and the security of that top tier league is critical for soccer here. Not as discussed but in the long run also key is a stable lower tier system; the NASL is growing, and fans in cities where MLS has yet to reach now seem to be embracing the chance to support pro soccer at the second tier as well. Look at the success of San Antonio, or the passion of the Dark Clouds supporters who worked so hard to keep the Stars alive in Minnesota.
At the Chatham Tap, I ran into a well-known Stars fan, Bruce McGuire. Bruce is not in his 20s, and I doubt he'd mind if I described him more grizzly than glamorous. He's the man behind du Nord, a tireless supporter of soccer who has seen the sport's rise first hand. We didn't get to chat for long, and I had to keep being rude to check my phone as ticket sales were underway for Indy. But seeing him there, surrounded by this crowd of hopeful young fans, seemed almost like a torch-passing moment - a feeling deepened when Paul Kennedy, an editor of Soccer America magazine since the 1980s, appeared on the scene as well. The past and future of American soccer was colliding in Indy on this evening and for a hopeless enthusiast like myself, it all seemed to be too good to be true as I checked on my phone and saw that hundreds of season ticket deposits had been taken for Indy Pro Soccer in just the first couple of hours on sale.
I'm biased about all this; very, very biased. Take everything above with a big grain of salt. I dearly want Indy Pro Soccer to succeed: because Indianapolis should have a professional soccer team, because it's good for the sport in the Midwest, because it's crucial America's lower leagues thrive and grow the footprint of the sport where MLS does not reach, but most of all, because the fans in Indiana who live and breathe soccer deserve a team they can call their own.
On the way out of Indy the next day following the MLS draft, aboard a bus full of Fire fans who have been privileged to enjoy supporting a pro team started by a man called Peter Wilt in October 1997, we hit up a truck stop for a bite to eat, not far outside of Indy. I sat down and was surprised to find the man in his 20s serving me smiling broadly. I realized he looked awfully familiar, but didn't immediately place him. He did not take long to remind me.
"I saw you last night, man," he said. "I'm Justin. Mon the Brickers!" Of course: Justin was one of the main organizers of the Battalion. He had taken the day off work to attend the press conference, though he couldn't do that two days in a row to make it to the draft. We talked about Indy Pro Soccer for five minutes before he had to run back to the kitchen, but I'm pretty sure we could have chatted for five hours about the team, about the Battalion, about the challenges and opportunities for the club in Indianapolis, while I ate grilled cheese and a side of fries. That's what soccer means now in the crossroads of America, becoming a part of the day's conversation, part of how we get through work and life with a sport that provides a diversion that gives us frustration and the fantastic in equal measures. Indy is again part of that excitement, representative of soccer's nationwide boom today.
Tom Dunmore is a Chicago-based writer and editor of XI Quarterly. You can follow him on Twitter @tomdunmore
4 Responses to "Soccer In The Crossroads of America"