Keystone Group CEO Ersal Ozdemir with Indiana Governor Mike Pence
Ersal Ozdemir
Ersal Ozdemir is the CEO of Keystone Group LLC. Keystone is a commercial construction, real estate development, and an investment firm.
Mr. Ozdemir graduated from Purdue University with a bachelor's degree in Civil Engineering. He is also a graduate of the Stanley K. Lacy Executive Leadership Class XXVIII.
Mr. Ozdemir speaks to various groups and has been interviewed for different international issues over the years. Some of his hobbies are traveling, spending time with family and friends, playing soccer and table tennis. Mr. Ozdemir enjoys the arts and attends, as well as supports the local art community.
Personal and professional activities
Board of Directors, Indiana Chamber of Commerce
Board of Directors, Indianapolis Chamber of Commerce
Board of Trustees, University of Indianapolis
Board of Governors, Indianapolis Museum of Art
Board of Trustees, Indiana Historical Society
Board of Directors, Palladium, Center for Performing Arts Foundation
Board of Directors, Greater Indianapolis Progress Committee (GIPC)
Board of Directors, Children's Bureau, Immediate Past Chairman
Board of Advisors, Purdue University School of Civil Engineering
2012 Super Bowl VIP Services Host Committee, Co-Chair
Advisory Board, Mayor's Office of International and Cultural Affairs
Board of Directors, Current Publishing, Chairman
Member, Rotary Club
Member, American Society of Civil Engineers (Past Treasurer)
Member, Building Owners and Managers Association
Member, National Association of Industrial and Office Properties
Member, International Council of Shopping Centers, Inc.
Carmel Economic Development Commission, President (past)
Peter Wilt - President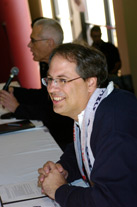 Indy Pro Soccer's 1st team president is veteran soccer executive Peter Wilt. He has earned six championship rings and record business growth for professional soccer teams in four different American soccer leagues. He has successfully launched three professional soccer teams and has restarted three others in his career each time leading the clubs to the top of their leagues both on and off the field.
Wilt is most well known as the founding general manager and long time president of Major League Soccer's Chicago Fire where his teams set attendance and corporate sponsorship records, while earning an MLS Cup, a Supporters Shield, Eastern, Central and Western Conference and three US Open Cup Championships under his leadership. Wilt also led efforts to develop TOYOTA PARK, the first 100% publicly funded soccer stadium in Major League Soccer.
He has worked for more than 30 years in professional sports – five years in professional hockey and the last 25 years in professional soccer.
Wilt has served on various soccer boards including the United States Soccer Federation, Women's Professional Soccer and Major Indoor Soccer League. He also chaired the Anschutz Soccer Management Council when AEG owned multiple teams in MLS.
He was the founding President of the FireWorks For Kids Foundation and the Chicago Red Stars Charitable Foundation and also served as President of the non-profit Minnesota Thunder Youth Development Organization. Wilt worked with 1990 U.S. World Cup player Jimmy Banks to launch Banks' inner city soccer program, which has served Milwaukee youth since 1988. He has also served on the boards of America SCORES Milwaukee and the Wisconsin Sports Development Corporation.
Wilt is a member of the Illinois Soccer Hall of Fame, the Marian Central Athletic Hall of Fame, the Farnese Hall of Fame and the Chicago Fire's Ring of Fire.
In 1998, Wilt was named MLS's Executive of the Year and Northwest Herald Sportsman of the Year. He was named the Naperville Person of the Year by the Daily Herald in 2002. Wilt and his wife Ann are graduates of Marquette University.